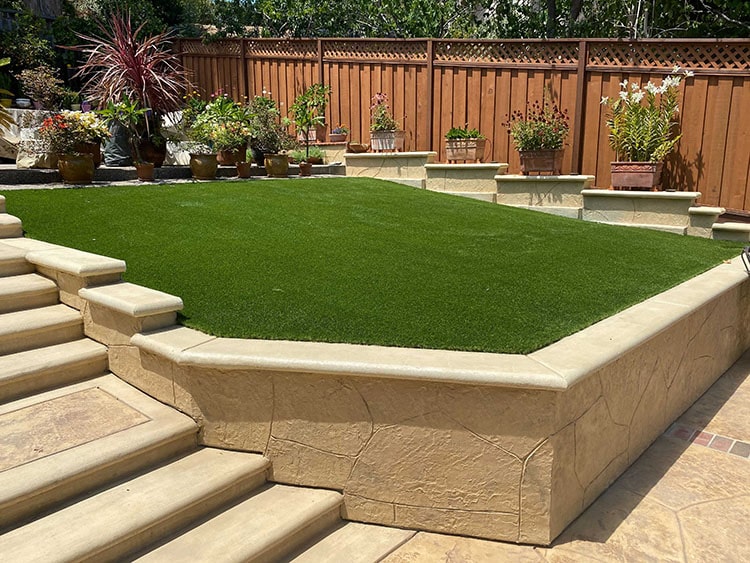 If you've made the decision to install synthetic grass in Santa Rosa, congratulations! You are making a green and sustainable choice that is better for both you and your family. But there's just one thing left to do—deciding on the best backyard design.
We've compiled a list of our favorite 7 ways to create your perfect artificial grass backyard.
1. Go for a modern look with a simple, clean design
If you're looking for a sleek and minimalist backyard design, this is the perfect option for you. Keep your landscaping simple with a few well-placed rocks or trees, and install synthetic turf in an even stripe or checkered pattern. This will give your yard a modern edge that is sure to impress your neighbors.
2. Create an outdoor oasis with tropical plants and flowers
Bring the tropics to your backyard with lush greenery, brightly colored flowers, and palm trees. You can achieve this look by asking an artificial turf installer in Santa Rosa to install the turf in a circular pattern, mimicking the shape of a garden. Surround the perimeter of your artificial grass with tropical plants and flowers, and you'll have the perfect backyard oasis to relax in.
3. Go for a traditional look with a lush green lawn
If you're looking for a more classic backyard design, consider installing artificial grass in a traditional rectangle shape. This will give your yard a traditional look and feel, and you can add in some flower beds or garden gnomes to complete the look. Plus, you'll never have to worry about mowing the lawn again!
4. Go for a fun and playful look with a colorful riot of patterns
If you're looking to add some personality to your backyard, why not go for a fun and playful design? Install artificial grass in multiple colors and patterns to create a yard that is truly unique. You can mix and match different colors and designs to create a look that is all your own, or go with a themed design like ocean waves or rainbows.
5. Create an entertainment hub with a patio and deck
If you love hosting backyard barbecues and pool parties, consider creating an entertainment hub with a patio or deck. This will give you plenty of space to entertain your guests, and you can install synthetic turf around the perimeter for a cohesive look. Add a few comfortable chairs and a shady umbrella, and you'll be ready to host the perfect party.
6. Go for a rustic look with a natural stone patio
If you're looking for a backyard design that is both rustic and natural, consider installing a stone patio. You can use river rocks or other natural stones to create a patio that fits in perfectly with your outdoor surroundings. Plus, you won't have to worry about maintaining your artificial grass in Santa Rosa CA with this option—just take care of your beautiful patio!
7. Create an eco-friendly oasis with recycled materials
If you're looking to go green in your backyard design, consider using recycled materials. This could mean using recycled wood to build a deck or patio, or using recycled plastic to create an artificial grass lawn. Not only will you be saving resources by using recycled materials, but you'll also be creating a backyard that is eco-friendly and sustainable.
Final Thoughts
We hope you've found the perfect backyard design for your home! No matter what your style or budget, there is an artificial grass option out there that is perfect for you. Be sure to consider all of your needs and wants before making a decision, and enjoy your new synthetic grass in Santa Rosa for years to come.