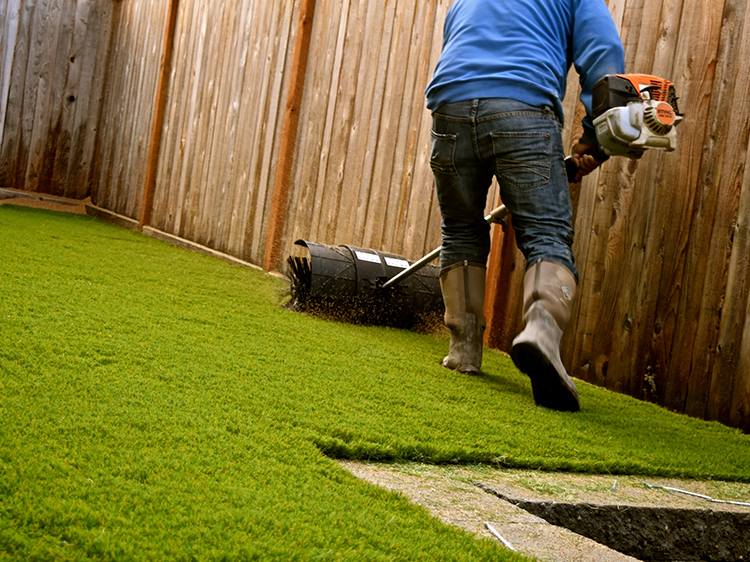 Artificial grass in Portland Oregon can be a good alternative to natural grass for many reasons. The first thing people notice about artificial turf is how it can look like real grass. It looks pretty realistic, especially when the sunlight hits the blades of synthetic grass in certain ways, making them glisten and shine.
The last thing anyone wants is to have an ugly lawn that does not look good for very long. It is difficult enough to grow natural grass, but to maintain a beautiful lawn on a consistent basis is nearly impossible.
The trick to maintaining a gorgeous looking lawn with artificial grass in Portland Oregon is to keep it clean and follow these 7 steps:
Keep everything tidy around the edges of the lawn, such as leaves and sticks and whatever else ends up by the edges or nearby.

Remove it as soon as possible: the longer you leave things there, the more likely they are to get ground into the turf which can make your lawn look bad very quickly.

Water your synthetic grass regularly to flush out dirt.

This will help get rid of all the germs, bacteria or other things that tend to accumulate after time. Make sure you use enough water so it is really soaked through.

Clean up pet waste asap.

Sometimes pets have to go on your lawn, but it is not the nicest thing to have their poo lying around for too long. Flush it all away as soon as possible!

Invest in a high quality synthetic grass if you want it to last for years to come.

It is much better to use a higher quality product when it comes to artificial turf, since cheaper grades can fade much faster and look bad over time.

Avoid using weed killer on your synthetic lawn.

Weed killer can have harmful effects on the blades of artificial grass, so it is best to keep it off.

Keep your synthetic lawn clean by regularly sweeping up leaves and other debris.

Use a leaf blower to get rid of leaves, and a broom or other instrument for smaller debris. Sweep this off the lawn as soon as you see it.

The last tip for good artificial grass maintenance is to prevent embers from reaching the turf.

This tends to be a problem during the summer months when people like to use outdoor grills and fire pits. It is important for everyone who uses their yard during this time period that they take precautions against letting embers or sparks anywhere near the synthetic green grass that will not only cause discoloration, but can actually melt it.

Artificial grass installation like a putting green in Portland can last for a long time if you maintain it properly, following this or similar lists of tips from a synthetic grass expert in Portland.

These are just some of the many ways that you can keep your lawn looking great. Hopefully these 7 steps will help you keep your artificial grass looking good for many years to come.